About the Task Force
The Anti-Racism and Inclusive Excellence Task Force has convened for an intense period of work between March and July 2021. Its six committees representing Work and Study constituencies and Equity Deserving Racialized Groups will examine issues and put forward recommendations both on an interim basis throughout its mandate and at the end in the form of a final report.
The Task Force was created as part of the response to the institutional commitment to build a more inclusive university community. The work of the Task Force is supported by the Office of the President and the Co-Executive Leads for Anti-Racism.
---
Membership
Co-Chairs
Dr. Handel Kashope Wright
Dr. Wright is the Senior Advisor to the President on Anti-Racism and Inclusive Excellence and a Professor in the Department of Educational Studies in the Faculty of Education. He is also Director of the Centre for Culture, Identity and Education.
His work focuses on continental and diasporic African cultural studies, critical multiculturalism, anti-racist education, qualitative research, and cultural studies of education. Dr. Wright's current research examines postmulticulturalism, youth identity, and belonging in the Canadian context.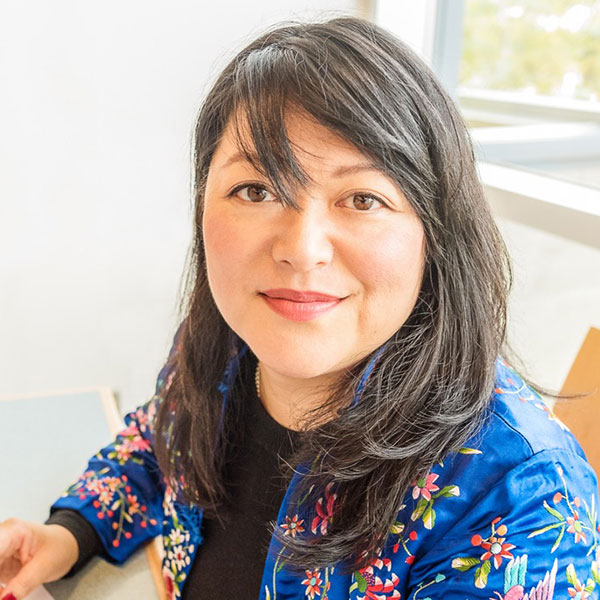 Dr. Shirley Chau
Dr. Chau is an Associate Professor in the School of Social Work in the Faculty of Health and Social Development at UBC Okanagan and current Chair of the Race Ethnic and Cultural Issues (RECI) Caucus as well as a member of the Board of Directors at the Canadian Association of Social Work Education (CASWE).
An experienced practitioner and teacher of social work practice methods, her research interests in social work practice include racialized populations, social and socioeconomically disadvantaged populations, and interprofessional health service programming and delivery to minoritized individuals and groups.
Photo credit: Bernadette Jarrard
---
Committees
Work and Study
Faculty Committee
Chair: Dr. Ryuko Kubota
Staff Committee
Chair: Dr. Maryam Nabavi
Student Committee
Co-Chairs: Binta Sesay and William Shelling
Equity Deserving Racialized Groups
Indigenous Committee
Chair: Dr. Donna Kurtz
Black Committee
Chair: Lerato Chondoma
People of Colour Committee
Chair: Dr. Dixon Sookraj
---
Faculty Membership
| Name | Campus | Biography |
| --- | --- | --- |
| Dr. Ninan Abraham | UBC Vancouver | Read more about Dr. Abraham |
| Dr. Sunaina Assanand | UBC Vancouver | |
| Dr. Samia Khan | UBC Vancouver | Read more about Dr. Khan |
| Dr. Ryuko Kubota | UBC Vancouver | Read more about Dr. Kubota |
| Dr. Donna Kurtz | UBC Okanagan | Read more about Dr. Kurtz |
| Dr. Gabrielle Legault | UBC Okanagan | |
| Dr. Minelle Mahtani | UBC Vancouver | Read more about Dr. Mahtani |
| Dr. Nuno Porto | UBC Vancouver | Read more about Dr. Porto |
| Dr. Dixon Sookraj | UBC Okanagan | Read more about Dr. Sookraj |
| Dr. Margo Tamez | UBC Okanagan | Read more about Dr. Tamez |
---
Staff Membership
| Name | Campus | Biography |
| --- | --- | --- |
| Saher Ahmed | UBC Okanagan | Read more about Saher |
| Rohene Bouajram | UBC Vancouver | Read more about Rohene |
| Lauren (Ilaanaay) Casey | UBC Vancouver | Read more about Lauren (Ilaanaay) |
| Lerato Chondoma | UBC Vancouver | Read more about Lerato |
| Tiffany Mintah-Mutua | UBC Vancouver | |
| Maki Natori | UBC Vancouver | |
| Dr. Maryam Nabavi | UBC Vancouver | Read more about Dr. Nabavi |
| Dr. Joenita Paulrajan | UBC Vancouver | Read more about Dr. Paulrajan |
| Laura Prada | UBC Okanagan | |
| Emi Sasagawa | UBC Vancouver | Read more about Emi |
| Dr. Dana Solomon | UBC Vancouver | Read more about Dr. Solomon |
| Velia Altamira Vazquez | UBC Vancouver | |
---
Student Membership
Name
Campus
Biography
Oluwaseun Ajaja
UBC Vancouver
Read more about Oluwaseun
Stephanie Awotwi-Pratt
UBC Okanagan
Read more about Stephanie
Tamasha Hussein
UBC Vancouver
Rabaab Khehra
UBC Vancouver
Read more about Rabaab
Maistoo'awaastaan
(Rodney K. Little Mustache)
UBC Vancouver
Read more about Maistoo'awaastaan
Zamina Mithani
UBC Vancouver
Read more about Zamina
Jason Remedios
UBC Okanagan
Read more about Jason
Binta Sesay
UBC Okanagan
Read more about Binta
William Shelling
UBC Vancouver
Read more about William
Student Representative
UBC Okanagan
---
Support Team
| Name | Campus | Role |
| --- | --- | --- |
| Parmida Esmaeilpour | UBC Vancouver | Graduate Research Assistant |
| Tori Chief Calf | UBC Vancouver | Notetaker |
| Pengcheng Fang | UBC Vancouver | Notetaker |
| Keitumetse Malatsi | UBC Vancouver | Notetaker |
---
Contact
Contact the Anti-Racism and Inclusive Excellence Task Force by email: ARIE.taskforce@ubc.ca